Wilhelm Franz(27 November 1858), Crown Prince of Austria is the son and heir-apparent to Eduard, Emperor of Austria. He is known for his military achievements during the Italo-Austrian war of 1884.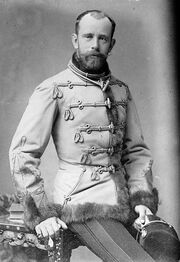 Early life
Edit
Crown Prince Wilhelm Franz was born on the 27 November 1858 as a heir to the Austrian throne replacing his uncle, Ferdinand Joseph. He was educated in Vienna and started his military career at an early age under his father's closest military advisor, Radetzky. Though he soon gave up on that and went to a university in Switzerland where he studied languages, geography and various sciences. He returned to Vienna soon after and begun his military career.
Military career
Edit
Wilhelm Franz has begun his military carreer at an early age. When he was eighteen he assumed command of the 4th Infantry Regiment(Infanterie-Regiment "Hoch und Deutschmeister" Nr. 4). He served in that post until he was 20. Then his father gave him the command of the 7th Dragoon Regiment(Dragoner-Regiment "Herzog von Lothringen" Nr. 7) and he served in that post until his promotion to Generalmajor in 1880. 
During the Ottoman war of 1876 the Crown Prince was in the High Command of the Southern Army as Operations Officer. Before that he was leading the 2nd Lancer Regiment(Ulanen-Regiment "Fürst zu Schwarzenberg" Nr. 2) and distinguished himself as a cavalry leader. After the war he continued to be the Colonel-in-Chief(Inhaber) of the regiment. 
In 1880 he was promoted to Generalmajor and assumed the command of the 9th Cavalry Brigade stationed in Trieste. 
On the outbreak of war of 1884 with Italy, the Crown Prince was first offered the command of the whole Italian Army, but refused and Welshy was given the command of the army. The Crown Prince again distinguished himself in the first few battles and was thus awarded the Imperial Austrian Order of the Iron Crown at the rank of Knight by his father, Eduard I. 
Orders, decorations and honours 

Edit
Knight of the Order of the Golden Fleece
Knight of the Imperial Austrian Order of the Iron Crown 
Official title
Edit
His Imperial and Royal Highness, Wilhelm Franz, Crown Prince of Austria, of Hungary, Bohemia, of Lombardy and Venice, of Dalmatia, Croatia, Slavonia, Galicia, Lodomeria and Illyria; Archduke of Austria.