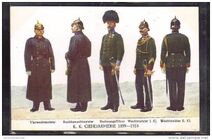 The Austrian Police Force is the governmental agency responsible for law enforcement in the country of Austria. The Austrian Police Force is split into divisions and have there own Bureau and precints. Each Bureau has a Chief that oversees it and each precint has a Captain that oversees it and reports to the Chief. The Chief reports to the Police Commissioner who is the highest ranking officer in the force.
Ranks of the Austrian Police Force
Edit
Police Commissioner/President  [1]
First Deputy Commissioner[2]
(First Deputy Commissioner has the same rank sign as Chief of Police as it is a Non-uniform official.)
Chief of Police [3]
Three Star Chief [4]
Two Star Chief[5]
One Star Chief [6]
Inspector [7]
Deputy Inspector [8]
Captain [9]
Lieutenant [10]
The Ranks above are worn on the officers collar. Lower ranking officer wear it on there sleeve.
Sergeant [11] (worn on sleeve)Until 1884 Sergeants had a more British Style rank sign, it was changed by Police Commissioner Thomas VanHauser.  Below Sergeant, officers do not have a rank sign. Fallen Officers
| Type | number |
| --- | --- |
| 1884 Shootout | 31 |
| Accidental | 10 |
| Shipping accident | 7 |
| Animal related | 17 |
| Asphyxiation | 2 |
| Assault | 31 |
| Automobile accident | 51 |
| Bicycle accident | 4 |
| Boating accident | 5 |
| Bomb | 2 |
| Drowned | 12 |
| Duty related illness | 10 |
| Unknown | 5 |
| Explosion | 8 |
| Exposure | 1 |
| Fall | 12 |
| Fire | 14 |
| Gunfire | 323 |
| Gunfire (accidental) | 24 |
| Heart attack | 44 |
| Motorcycle accident | 36 |
| Stabbed | 24 |
| Struck by streetcar | 7 |
| Struck by train | 5 |
| Struck by vehicle | 37 |
| Structure collapse | 3 |
| Terrorist attack | 23 |
| Foot pursuit | 12 |
| Vehicular assault | 20 |
| Total | 863 |